Highly engaging and effective and trainer
Dr Smith's natural ability to synthesise often complex information and psychological jargon into straightforward language makes Dr Smith a highly engaging and effective and trainer. Highly recommend Dr Smith as a supervisor and trainer!
Dr Khalil Kseib
Helped me see things clearly
Nicola supported me through personal decisions in a period of change and helped me see things clearly, in a time when everything felt overwhelming. Nicola is friendly and makes you feel comfortable. I would highly recommend her to anyone!
Professional and experienced supervisor
Dr Smith has expertly guided me through the process of undertaking a doctorate as a trainee health psychologist. I feel extremely lucky to have had such a professional and experienced supervisor helping me to navigate the often challenging path. Her unique understanding and experience in both academic research and clinical practice is weaved together by a compassionate approach to provide caring and deeply insightful, evidence based support.
Dr Khalil Kseib
Unreservedly recommended
I have worked closely with Nicola as a colleague in a weight management service and as an assistant in delivering a series of (Human Factor) training to community hospital staff.  We worked closely on re-writing curricula for both adults and children who needed to lose weight, the curricula needed to flex according to the group needs which included serious disordered eating and difficult relationships with food.  Nicola is rigorous in how she approaches writing course content, she draws on her extensive and diverse clinical experience, it is deeply rooted in the research literature and is eminently practical and applied. As a course facilitator/instructor she exudes confidence and knowledge in an accessible way.  She invites challenge from participants and does not shy from challenging back in a sensitive and thoughtful manner. In her sessions, she welcomes discussion and is able to respond to the needs of a group in the moment and adjust course material accordingly. I unreservedly recommend her as a developer of courses and an inspiring instructor.
Janet Warren
FirstStop Nutrition Ltd
I realised I was finally in a safe pair of hands
Before I had been to Nicola, I had seen some less qualified counsellors who had done more harm than good. From my very first session with Nicola I realised I was finally in a safe pair of hands. Nicola's knowledge and her way of explaining things is second to none. I never thought I would be able to work through the issues that I have had for years, and Nicola has helped me achieve this. She has changed my life.
A talented and adaptive trainer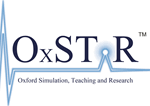 Nicola is a talented and adaptive trainer, she understands how to motivate candidates. When necessary she can challenge an individuals ideas/behaviour but in an encouraging and safe manner. We have found Nicola is able to present often complex theory in a very practical way. Feedback from the courses she runs with OxSTaR is consistently very good.
Rosie Warren
OxSTaR Centre
We have the understanding, tools and skills to support our daughter
We contacted Nicola in the hope she could help us understand our daughters anxiety which had suddenly become much worse. It was stopping her going to school, eating meals with the family, the quality of her sleep and ability to join in normal activities such as going to birthday parties without us. As her parents we felt we didn't have the tools in our tool kit to know how best to help her and ensure we weren't feeding the anxiety in any way. Nicola very quickly put us at ease, and our daughter. We attended 3 sessions during which we worked with Nicola as a family and our daughter worked 1-2-1 with her. The difference was noticeable immediately. It wasn't without its challenges but Nicola was quick to reassure us when it was difficult. Nicola recommended exercises, tools and techniques and books – all of which were very helpful then and now. We are much more confident in our ability to provide our daughter with ongoing support.
It has been an amazing transformation in such a short period of time.  My partner and I feel we have the understanding, tools and skills to support our daughter, which we didn't before coming to see Nicola. I would not hesitate to bring our daughter back if she needed to or recommend Nicola to anyone else who wants to help their child navigate the challenges of life.